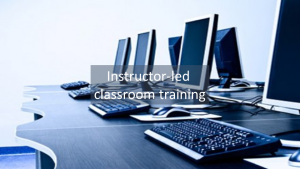 SparQ Corporate Training takes pride in our 30 years of experience delivering training – in the classroom, in live online sessions as well as video training. We work hard to create an optimum environment for learning. From the classroom layout to the latest technology, we help to ensure that our clients have the most current information on what makes learning effective, fun, easy and productive for all participants.
Delivering training in a live classroom, though it's the most standard training delivery method, requires knowledge of the various dynamics that are at play in a live session. Group dynamics, learning modalities, environmental considerations all interact to make the learning experience an outstanding success or an abysmal failure. Since SparQ Corporate Training has been around almost as long as desktop computers have been around, we know what's needed to optimize every learner's experience.
We look forward to working with you to discuss your learning requirements in the classroom environment – whether it's the practical setup of the equipment, technology and computer specs, emotional and intellectual needs of the participants – we'll let you know how to get the most out of your classroom training session. Just give us a call (416) 432-8436 or send an email info@sparqcorporatetraining.com.